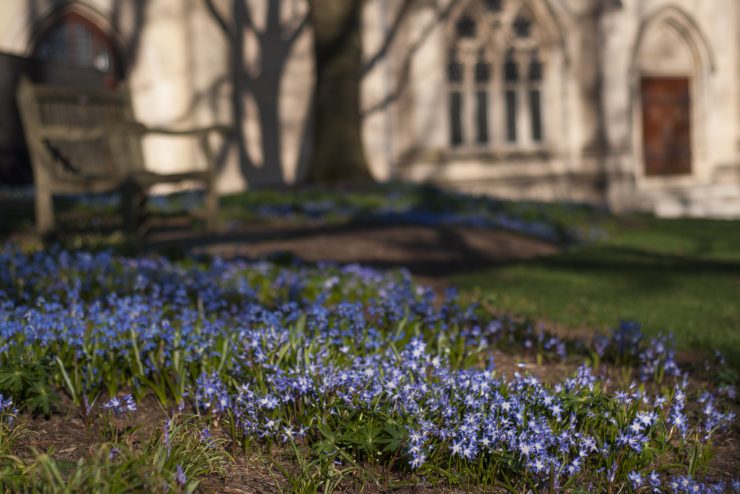 I was invited to a Holy Lent
In most ways, I am the well-mannered visitor. I do not peek in your desk drawer or read your mail or listen to your voice messages. But when it comes to your bookcases I have the manners of a warthog. If you cannot find me, go to your bookcases. I will be there rooting among your shelves.
Father Lyndon Shakespeare came to my rescue when I felt I had run out of things to read.  During his time at the Cathedral he carried out a program of lectures and readings. I ran the Perry Auditorium sound system, ran errands and carted away leftover books. Books about women in the Bible who had very little scholarship press and whether there was really mass persecution in the Early Christian Church. My questions piled up and I turned to Father Shakespeare for the answers.
Not only did he lead programs, he took his turn in the Sunday services and the weekly Evensongs.  (When I am blue I turn to the Cathedral Youtube channel and go to the 14 April, 2013 Service to watch Lyndon read the Gospel.)  After an Evensong Service, I was emboldened to ask him my big question as he waited for me to unhook his microphone:
"Why does nothing seem to be as I have always been told that it was?"
These times of conversation were necessarily brief, I did not want to detain Lyndon longer than it took for me to reclaim the microphone. Lyndon and the clergy cantor gave me some further resources.
The last time I had the chance to ask, "why does nothing seem the same to me," I thanked Lyndon for giving me some time and began to ease away.  But he still chatted.  I started to turn away and he moved in front of me. His large brown eyes locked on my widened green eyes and I stood still. I cannot remember all that he said in that voice of conviction washing over me. But a few sentences are burned in my brain:
'Dig deep.'
'It will be well worth your while.'
'Dig deep.'
'Dig deeper.'
'Don't settle for a shallow relationship with God.'