The Rev. Melissa Hollerith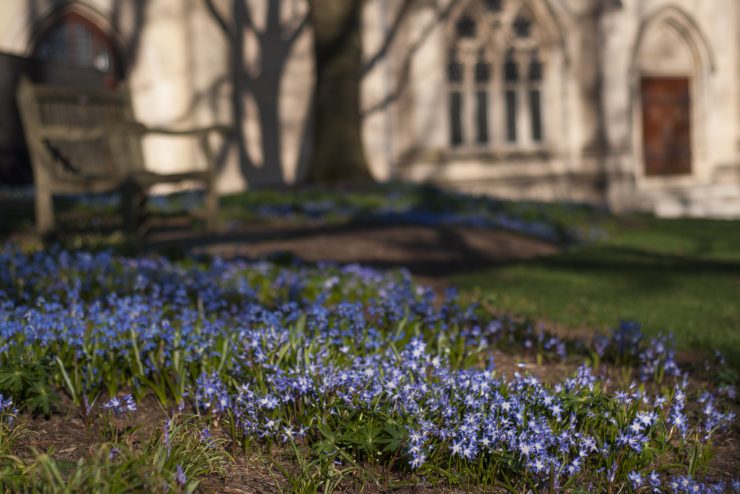 Today's Gospel: John 8:21–30
"The one who sent me is with me; he has not left me alone, for I always do what is pleasing to him."
One of our biggest problems is that we do what pleases us, not God. Most of us don't make our decisions, or live our lives, based on what pleases God. Similar to Adam and Eve, we like to be in control. And like Adam and Eve, that's a downfall for us.
A biography of Henry Ford tells the story of a man who achieved incredible fame and fortune. By 1920, half of all cars on the roads in America were Fords. Seen as a hero for making it possible for the average family to own a car, Ford's opinion was sought out for every area of life; and Ford was more than happy to oblige and give his opinion on everything from marriage to world peace. The adulation and praise of others convinced Ford that he was god-like and infallible, and this led him to make some bad decisions. The praise blinded Ford to his own hypocrisy as he preached family values and yet kept a mistress.  Ford's last days were sad ones. On a visit to the house where he had lived as a newlywed, he told his chauffeur, "I've got a lot of money, and I'd give every penny of it right now just to be here with Mrs. Ford." (The People's Tycoon:  Henry Ford and the American Century)
Do we too often feel infallible in our decisions, that we alone know what is best?  Or, do we look first to God. Without God as our lead in all we do, we will fall. Jesus shows us the way this morning in the reading.  Jesus says he tries to act in a way that is pleasing to God. Do we do that in our lives? Do we try to live our lives and make our decisions in such a way that would be pleasing to God? Or, does it tend to be all about us- our feelings, our desires, our wants? Jesus shows the way, we just need to follow.
Pax,
Melissa +
---
When I Survey the Wondrous Cross 
By:  Isaac Watts
When I survey the wondrous cross, On which the Prince of glory died, My richest gain I count but loss, And pour contempt on all my pride.
Forbid it, Lord, that I should boast, Save in the death of Christ my God! All the vain things that charm me most, I sacrifice them to His blood.
See from His head, His hands, His feet, Sorrow and love flow mingled down! Did e'er such love and sorrow meet,Or thorns compose so rich a crown?
Were the whole realm of nature mine,That were a present far too small;Love so amazing, so divine, Demands my soul, my life, my all. Amen.