The Rev. Canon Jan Naylor Cope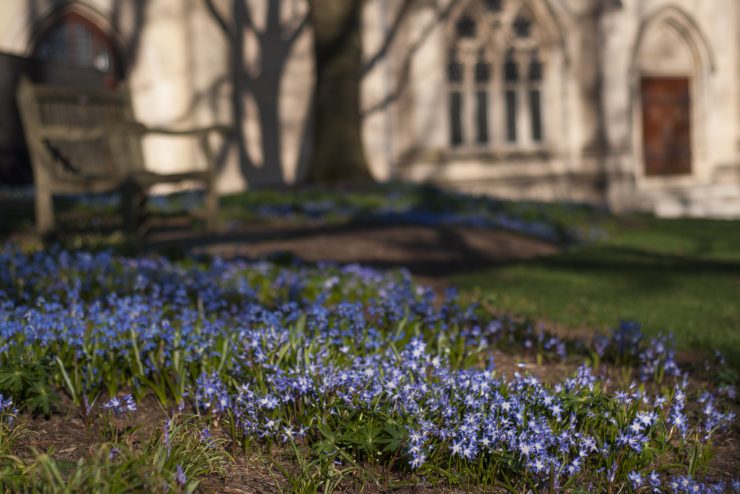 Today's Gospel: Matthew 27:57-66
One of my favorite chapels at the National Cathedral is the Chapel of St. Joseph of Arimathea. It is at the lowest point of the crypt level of the Cathedral, literally twelve steps below the rest of the crypt, architecturally representing the descent into the tomb of the body of Jesus. One cannot miss the focal point of the chapel, the extraordinary panoramic mural depicting Jesus' followers carrying his body to the tomb given by Joseph of Arimathea. Part of what I love about this chapel is how the artist, Jan Henrik DeRosen, brought our own story into The Story. He purposefully used staff and choir members at the Cathedral as models for the mural. Jesus' model was the boiler man at the Cathedral and Joseph of Arimathea was one of our vergers. Part of the beauty of the biblical narrative is finding our story within The Story.
This morning we find ourselves in that in-between time—between the cross and the resurrection. As a Forward Day by Day meditation writer once put it, "The truth is, we often live in between times, when the old has died but the new has yet to come…There is a gap between where we are—physically, emotionally, spiritually—and where we want to be. Could it be that this is exactly where God wants us? Today is a day for letting go, for accepting our lives as they are—however incomplete and transitory they seem to be—and waiting for the new life that is to come."
As the Collect for Holy Saturday states, may we with Jesus rise to newness of life.
In faith,
Jan+
---
O God, Creator of heaven and earth: Grant that, as the crucified body of your dear Son was laid in the tomb and rested on this holy Sabbath, so we may await with him the coming of the third day, and rise with him to newness of life; who now lives and reigns with you and the Holy Spirit, one God, for ever and ever. Amen
(BCP, Collect for Holy Saturday)