The Rev. Canon Jan Naylor Cope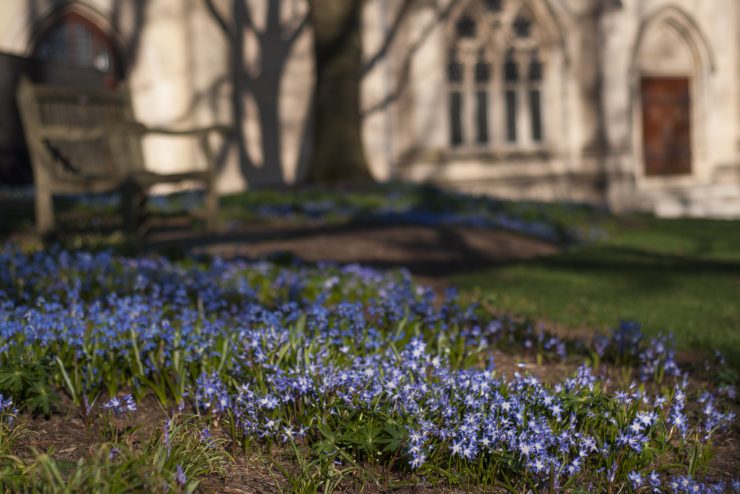 Today's Gospel: John 19:38-42
One of the gifts of the National Cathedral, as it is with many cathedrals around the world, is the way in which the biblical story and our contemporary stories are captured in art—stone, glass, sculptures, paintings, tapestries, wood, iron, needlepoint and transformative music. The story depicted in today's gospel lesson is no exception.
The Chapel of Joseph of Arimathea at the National Cathedral has an exquisite mural—the only mural in the Cathedral. As you can see from the photo, the scene depicts today's gospel story. One of the ways in which the artist, Henrik de Rosen, brings our story into The Story is his use of Cathedral folk as models—hence choristers, a verger and a boiler room staff member who were serving the Cathedral at the time became part of the crowd, St. Joseph of Arimathea, and Jesus, respectively.
As we wait at the tomb on this holy Sabbath and meditate on the scene before us, where do you see yourself in The Story? Where does your story find its place in the greatest story the world has ever known? How are you carrying the greatest story ever told forward in our day and our time?
Jan+
*Photo credit: D. Thomas
---
O God, Creator of heaven and earth: Grant that, as the crucified body of your dear Son was laid in the tomb and rested on this holy Sabbath, so we may await with him the coming of the third day, and rise with him to newness of life; who now lives and reigns with you and the Holy Spirit, one God, for ever and ever. Amen.