The Rev. Canon Dana Colley Corsello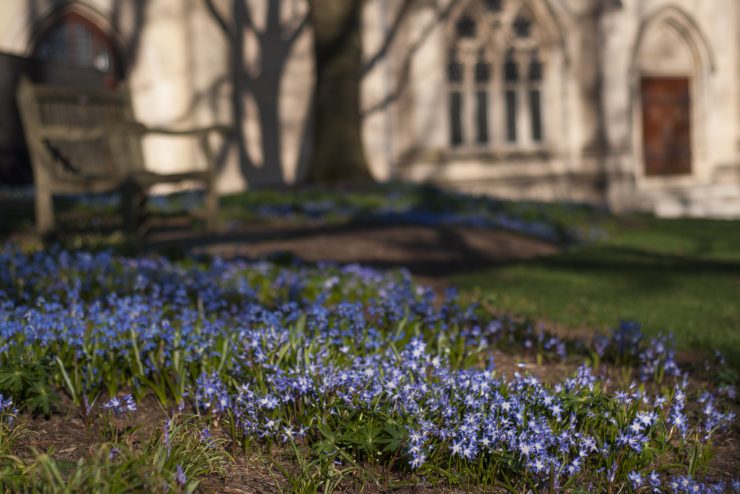 Today's Gospel: John 12:1-11
Six days from now we will celebrate our resolute conviction that we are Easter people. We believe that God raised Jesus from the dead so that we can have eternal life. Mary and Martha also believed in, and celebrated, this gift. They'd seen with their own eyes what he had done with their beloved brother, Lazarus. Six days before the Passover, the sisters hosted a dinner party in honor of Jesus and his gifts.
This text heightens my senses. I can smell the rich spices invading the stew over the fire. I can hear the hushed tones of those whispering about Lazarus. Did he want to be raised from the dead? He is mute…always mute. And Judas—the attention is always pointed toward Judas—making a fuss of the decadent perfume Mary lovingly caresses on Jesus' feet. Its fragrance overwhelming the dust and sweat of a long day's journey. And then watching her unbraid her hair and take our Lord's feet and wipe them clean is almost too carnal.
Extravagance and intimacy underscore this text from John. The anointing is both an acknowledgement of, and a sign pointing to, Jesus' imminent crucifixion and burial.
Jesus allowed Mary to love on him with such intimacy because her physical touch was the embodiment of our own love at the ultimate gift he would soon give. Try to imagine how you would love on Jesus knowing that he would soon be tortured to death.  
My prayer this Holy Week is that I become vulnerable enough to allow myself to feel the extravagant love and intimacy that Jesus offers me through the foot washing and when I prostrate myself at the Good Friday cross in sorrow and gratitude for what he did for me. Feel the touch. Smell the perfume. Rend your heart and let God love you into wholeness for we only have him a little while longer.
Faithfully,
Dana+
---
Lord, let me rest the ladder of gratitude against your cross and, mounting, kiss your feet. (Prayer of an Indian Christian)