The Rev. Canon Dana Colley Corsello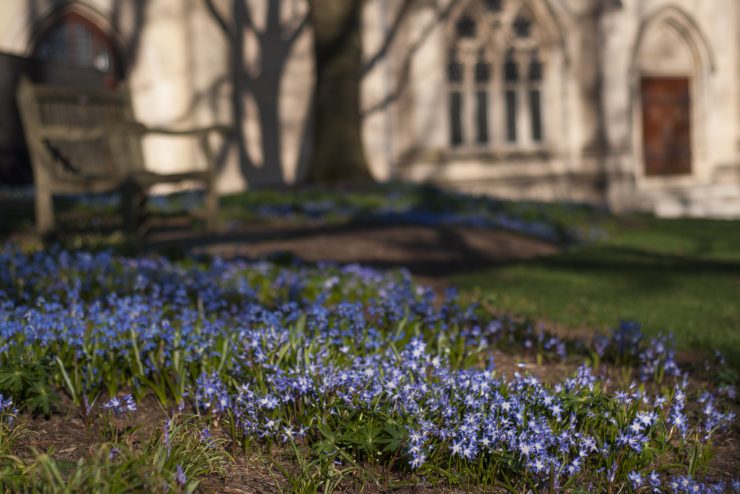 Today's Gospel: John 12:9-19
It's Monday morning, and my guess is that the tune to All Glory, Laud and Honor still hums in your head. The scripture appointed for today's meditation is about so much more than the death warrants for Lazarus and Jesus and even Jesus' triumphant ride into Jerusalem.
The last bit of this bible verse is curious. I don't think we pay enough attention to it. The Pharisees look at one another, perhaps resigned and dumbfounded, and exclaim, "You see, you can do nothing. Look, the world has gone after him!" Word had spread about Jesus bringing Lazarus back from the dead and they couldn't do anything to stop this momentum. In their corner of the world Jesus, this so-called Messiah, was turning it upside down.
On this Monday of Holy Week, I am thinking we should ask ourselves how Jesus has turned our worlds upside down or not. Because if he hasn't then perhaps we need to go a little deeper, trust him more, and open our hearts so he can break them and put them back together. This past weekend I was away in Tulsa preaching the homily at the funeral of a dear friend's mother who unexpectedly died. It's at times like this when we're in the crowd, trying to touch the hem of his cloak, waving our palms, singing our hosannas, with the conviction that our beloveds are riding on the back of that donkey with their arms wrapped around his waist. There are not many absolutes for me in the context of my faith, but the resurrection is certainly one. And when death or other adversity comes, and my world and my faith are turned upside down and inside out, I rest in the assurance that God will right everything on Easter Sunday. For that "the lips of children make sweet hosannas ring" and so do mine.
Faithfully,
Dana+
---
Gracious Dear One,
Hold us in your mystery this Holy Week and break us open to feel your merciful love and presence. May we be reborn with you this time as always.