The Rev. Andrew K. Barnett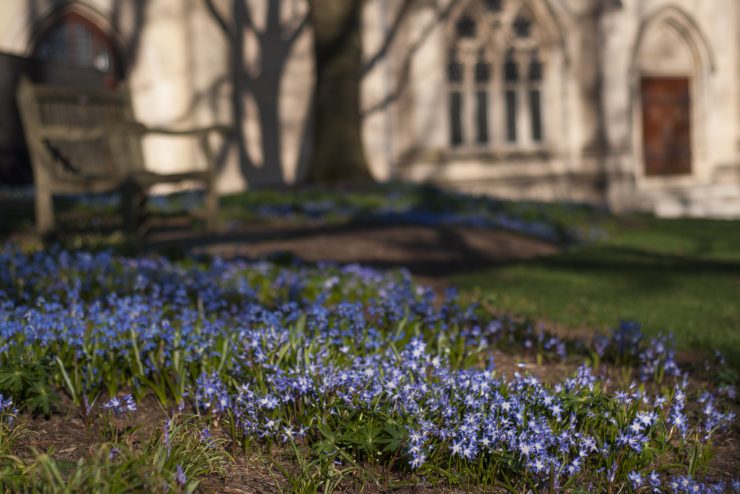 Today's Gospel: Luke 16:19–31
In the reading appointed today from the book of Jeremiah, we read, "Blessed are those who trust in the Lord, whose trust is the Lord. They shall be like a tree planted by water, sending out its roots by the stream. It shall not fear when heat comes, and its leaves shall stay green; in the year of drought it is not anxious, and it does not cease to bear fruit." I wish to offer a few thoughts here on trusting God.
Trust is a powerful social phenomenon. It comes from repeated, small, positive experiences that teach us that we can rely on someone. Trust does not come from giant Earth-shattering experiences. Rather, trust builds slowly, like marbles being added to a jar one by one. Indeed, this is the metaphor that author Brené Brown uses to explain how we learn to trust.
How, then, might we build our trust in God? I wonder if we might start with the daily practice of prayer. We might begin our prayers by reciting the words of another writer. The Lord's prayer is always a good place to start, as Jesus used these words to teach us how to pray. One might offer the words of the Magnificat, 'My soul doth magnify the Lord…" or the Nunc Dimittis, "Lord, now lettest thou thy servant depart in peace."
But how to put prayer in our own words? Try going for a walk for 10 minutes a day. Leave all electronics at home, empty your pockets of anything you don't have to keep. And as you walk, pour your heart out to God. Silently or aloud, tell God what's on your mind. Then you might offer a prayer like, "Speak, Lord, for your servant is listening." Or consider a mantra, with one word offered on each breath, "Please. God. Lead. Me." Breathe, and listen.
Paradoxically, on those busy days when we can least afford 10 minutes for anything, we are standing in the need of prayer more than ever. From this daily prayer, we may find courage to trust God more deeply because we are tending to the relationship. May it be so.
Blessings,
Andy+
---
O God of peace, who has taught us that in returning and rest we shall be saved, in quietness and in confidence shall be our strength: By the might of your Spirit lift us, we pray, to your presence, where we may be still and know that you are God; through Jesus Christ our Lord. Amen.  (A Prayer for Quiet Confidence. BCP 832).