The Rev. Andrew K. Barnett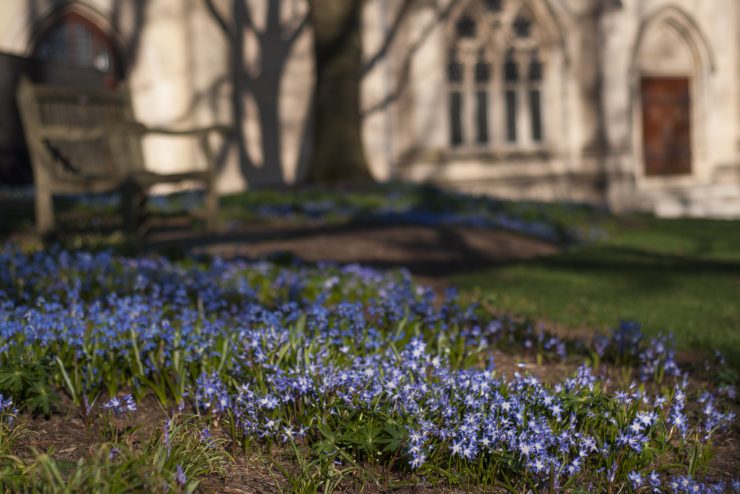 Today's Gospel: John 10:19-42
Jesus says, "If I am not doing the works of my Father, then do not believe me. But if I do them, even though you do not believe me, believe the works, so that you may know and understand that the Father is in me and I am in the Father" (10:37-38). Today, I would like to reflect on Jesus as the Good Shepherd–the real thing and not some phony stand in. How will we know the voice of Jesus in our lives, even today?
First, to understand this passage in context, it helps to know that he has just claimed his role as the Good Shepherd–one who would lay down his life for the flock. He draws a contrast to a hired hand: a stand-in who would get spooked at the first howl of a wolf, running for the hills and leaving his flock to become a mutton buffet.
Second, Jesus invites us judge him by his record. He asks that we look at his works, his healing, his signs, even if we struggle with his teaching. There were plenty of other first-century revolutionaries who made messianic claims in Jerusalem and got taken out by Rome. What separates Jesus from those guys? What distinguishes his teaching from any of the other self-help methods on offer today? That's a question for each of us, but I choose to follow Jesus because of what he did. He healed the untouchables, he fed the hungry, he broke every social barrier he could find, he washed feet and laid down his life for his friends.
Finally, how will we listen for Jesus' voice amidst the din of our public square? What makes the Good Shepherd's voice stand out, clear like state trumpets in the cathedral nave? There are so many people and influences vying for our attention, yet he says, "My sheep hear my voice. I know them and they follow me." I am listening for a voice that calls me, deep unto deep, back to who I truly am: a child of God, invited to a brave discipleship that will change how I think and what I do. In short, the voice of Jesus calls us join God's wild and passionate work of loving the world.
Blessings,
Andy+
---
"Do not be afraid, not now, not ever, for there is a love in your life that is stronger than any power on earth, stronger than illness, stronger than sorrow, stronger than any hurt any heart has ever known. You understand what I mean, for in the depth of your own experience you have met this power before, been lifted up by it, sheltered by it, made whole by its unwavering presence in your life. Do not be afraid. Not now. Not ever. For the power that set the stars to spin is the power that watches over you, the power that calls your name, the power that makes all things new."
(Bishop Steven Charleston, Facebook Post from April 3, 2019)