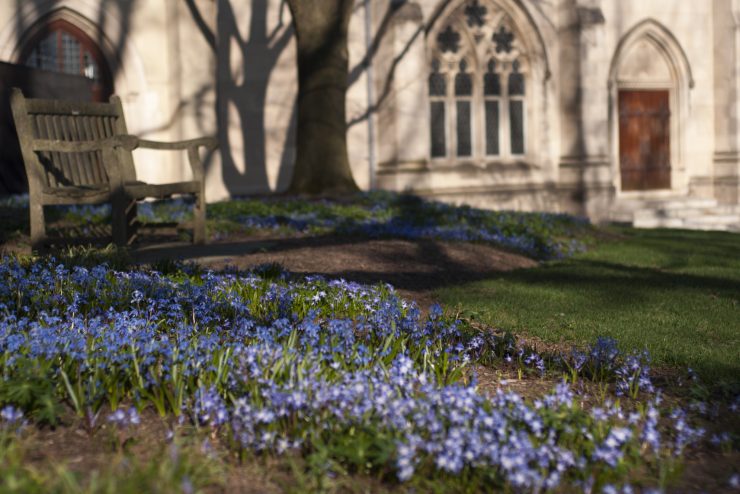 Mark 5:35-43
While he was still speaking, some people came from the leader's house to say, "Your daughter is dead. Why trouble the teacher any further?" But overhearing what they said, Jesus said to the leader of the synagogue, "Do not fear, only believe." He allowed no one to follow him except Peter, James, and John, the brother of James. When they came to the house of the leader of the synagogue, he saw a commotion, people weeping and wailing loudly. When he had entered, he said to them, "Why do you make a commotion and weep? The child is not dead but sleeping." And they laughed at him. Then he put them all outside, and took the child's father and mother and those who were with him, and went in where the child was. He took her by the hand and said to her, "Talitha cum," which means, "Little girl, get up!" And immediately the girl got up and began to walk about (she was twelve years of age). At this they were overcome with amazement. He strictly ordered them that no one should know this, and told them to give her something to eat.
---
Mark's gospel shares the complex predicament of Jairus, an official of the local synagogue. His daughter is gravely ill, he is in need of assistance, and there is a crowd that Jairus must pass through in order to make his plea directly to Jesus. In addition, once he makes his plea, Jesus and Jairus are seemingly delayed on their way to Jairus' house by a woman with an issue that had been afflicting her for twelve years. While Jesus is addressing the woman and her issue, messengers arrive on the scene from Jairus' house and say to him, "Your daughter has died. Why bother the Teacher any longer?"
For many of us this would have been enough to give up and lose faith, but Jairus listens to Jesus' instruction as he tells him, "Don't be afraid, only believe." Jesus separates from the crowd and continues to Jairus' house with only Peter, James, John and Jairus. Once inside the home there is confusion, loud crying and wailing. The crowd in the house had to be put out as they made fun of Jesus declaring that the girl was only sleeping. Jesus speaks to the girl, and she got up at once and started walking around. Through all of this Jairus held on to faith. He had moments where he could have given up, walked away, or stopped believing but in the face of circumstances and people with a multitude of opinions he stood firm in his faith. Each day of Lent we must strengthen our faith so that we may stand firm in our faith, no matter what we face!
Blessings,
Leonard
---
Gather up In the arms of your pity The sick, the depraved, The desperate, the tired, All the scum Of our weary city Gather up In the arms of your pity. Gather up In the arms of your love— Those who expect No love from above. (PRAYER, by Langston Hughes)