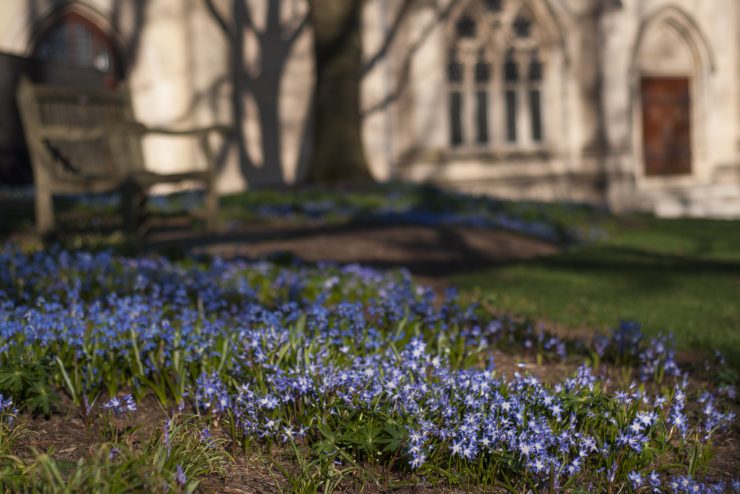 "Wade in the water. Wade in the water children. Wade in the water.  God's a gonna trouble the water."
—  African American Spiritual
The image of water has extreme profundity in our Christian life. God chose water as a metaphor throughout the history of the world. Moses was found in a basket in the water. The Egyptians were drowned in the water, so as to save God's people, as the African American spiritual "Wade in the Water" reminds us. John the Baptist said, "I baptize you with water, but the one who comes after me baptizes you with the Holy Spirit and with Fire." Here, too, the water comes first. When John reluctantly baptized Jesus, Jesus ascended from the water, where the Holy Spirit surrounded him like a dove.
We can't escape the water, it is everywhere, surrounding us, beckoning us to it. Images of the water appear throughout the Bible. Jesus found his disciples, who were fishermen, on the water. To a disbelieving group of them, he calmed the angry water that threatened to drown them all in Mark's Gospel, Chapter 4. Much like life, the water can be smooth and tranquil, or it can be disturbed and angry. Other forces can trouble the water, but the water is omnipresent.
On the Cross, deprived of water, Jesus said, "I thirst." We all thirst. The journey of Lent represents our thirst to know Jesus, to become a part of the water that is the symbol of life. We are to study and pray and meditate during this period. We are to ride the waves of the troubled waters of the Crucifixion with Jesus. At the end of the three days, on the Resurrection Day, on Easter Day, we are baptized with, yes, water.