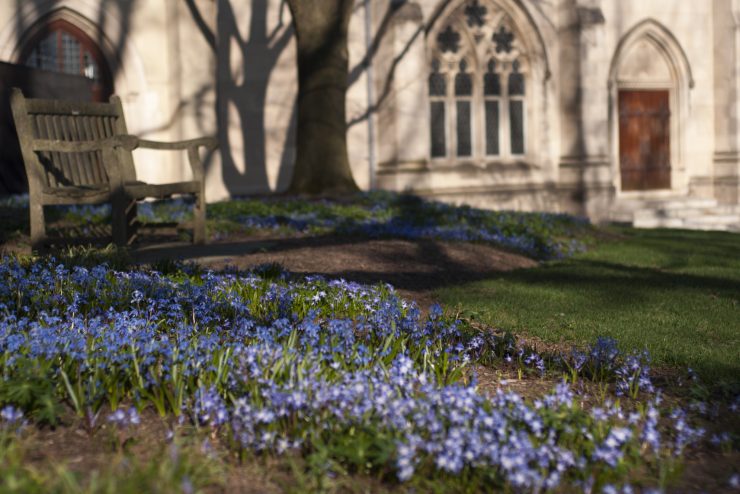 Mark 5:1-20
They came to the other side of the sea, to the country of the Gerasenes. And when he had stepped out of the boat, immediately a man out of the tombs with an unclean spirit met him. He lived among the tombs; and no one could restrain him any more, even with a chain; for he had often been restrained with shackles and chains, but the chains he wrenched apart, and the shackles he broke in pieces; and no one had the strength to subdue him. Night and day among the tombs and on the mountains he was always howling and bruising himself with stones. When he saw Jesus from a distance, he ran and bowed down before him; and he shouted at the top of his voice, "What have you to do with me, Jesus, Son of the Most High God? I adjure you by God, do not torment me." For he had said to him, "Come out of the man, you unclean spirit!" Then Jesus asked him, "What is your name?" He replied, "My name is Legion; for we are many." He begged him earnestly not to send them out of the country. Now there on the hillside a great herd of swine was feeding; and the unclean spirits begged him, "Send us into the swine; let us enter them." So he gave them permission. And the unclean spirits came out and entered the swine; and the herd, numbering about two thousand, rushed down the steep bank into the sea, and were drowned in the sea. The swineherds ran off and told it in the city and in the country. Then people came to see what it was that had happened. They came to Jesus and saw the demoniac sitting there, clothed and in his right mind, the very man who had had the legion; and they were afraid. Those who had seen what had happened to the demoniac and to the swine reported it. Then they began to beg Jesus to leave their neighborhood. As he was getting into the boat, the man who had been possessed by demons begged him that he might be with him. But Jesus refused, and said to him, "Go home to your friends, and tell them how much the Lord has done for you, and what mercy he has shown you." And he went away and began to proclaim in the Decapolis how much Jesus had done for him; and everyone was amazed.
---
"It is a fearful thing to fall into the hands of the living God," as the author of Hebrews reminds us. The great theologian and philosopher Rudolf Otto said that an experience of the holy is, mysterium tremendum et fascinans. It is an experience of something wholly other, something deeply mysterious that fascinates and attracts us, while at the same time it can fill us with awe and dread.
In our lesson for this morning, Jesus encounters a man who lives amongst the tombs, he literally lives in the midst of death. Surrounded by evil, profoundly ill, out of his right mind, and bent on self-destruction, he seems beyond help. But when he encounters Jesus, Mark tells us he runs to him and falls on his knees. He is drawn to Jesus, fascinated by him. This is mysterium fascinans. At the same time, this man knows who Jesus is, and he is terrified to be in the presence of the "Son of the Most High God." This is mysterium tremendum. He is filled with both desire and fear. He desires to be loved, to be healed, to be redeemed. At the same time, he knows that in order to find these things he must allow himself to be changed, and that is terrifying.
As dramatic as this story is, ask anyone who has found healing and new life in AA or NA, and they will tell you that in its essence this is not an uncommon tale. They know that the desire to find health and wholeness is always coupled with a fear of change, fear of owning the fact that one is powerless against addiction. But they come to understand that it is only the willingness to let go of their way of life that can get life back for them.
It is indeed a fearful thing to fall into the hands of the living God. But the lesson is, if we have the grace to surrender, to put ourselves into God's hands, then we discover that what we get back is love, health, and redemption.
---
Almighty and eternal God, so draw our hearts to thee, so guide our minds, so fill our imaginations, so control our wills, that we may be wholly thine, utterly dedicated unto thee; and then use us, we pray thee, as thou wilt, and always to thy glory and the welfare of thy people; through our Lord and Savior Jesus Christ. Amen. (BCP 832)