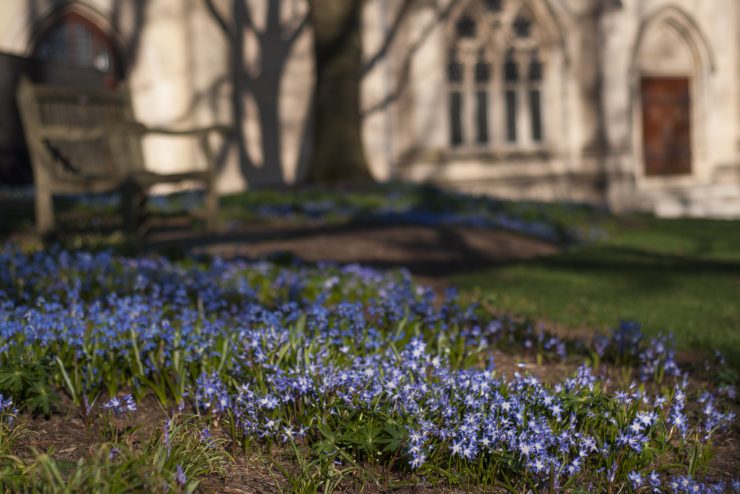 Recently I flew for the first time between the Eastern and the Pacific Time Zones.  Not only did it bring to mind every "are we there yet" ever heard, it presented one of the longest periods of enforced inactivity I have had in a while. I wondered how best to spend this time, how to think about it, how to decide if it was a gift or a punishment. I couldn't even just look out the window because the person next to me kept the shade down the entire trip. I wish I could say I made excellent use of the time reading or praying or even sleeping. Sadly, I largely focused on my discomfort.
Maybe this trip was a metaphor for Lent, not just my own 40 days, but the days when Jesus and his followers headed for the last time to Jerusalem. Although we are grateful for their journey that led to Easter, the disciples may not have been enthusiastic about a trip they had neither chosen nor designed, on a path that must have seemed uncomfortable and restrictive. Did they ask what they should be doing or what it all meant? Did they wonder if their trip was a blessing or a curse? Did they complain when someone blocked the view? Did they ask Jesus "are we there yet?"
If I couldn't figure out how to spend four hours on a plane, paying more attention to what I was not doing than to what I could have done, how will I possibly learn the lessons of 40 days? Will I see Lent as a time to focus on what I am denied or will I embrace what I will take up? Will I just turn away from something uncomfortable or will I turn my face toward what I can gain?
Although I may not have chosen all that this season asks me to consider, this time I hope I will more fully embrace my Lenten journey as part of my Easter experience and learn what God has to teach me.    Am I there yet?