Cathedral Unveils 'Now and Forever' Racial-Justice Stained Glass Windows
WASHINGTON – Today, Washington National Cathedral unveiled its new racial-justice-themed stained glass windows, created by world-renowned artist Kerry James Marshall, in a public dedication event.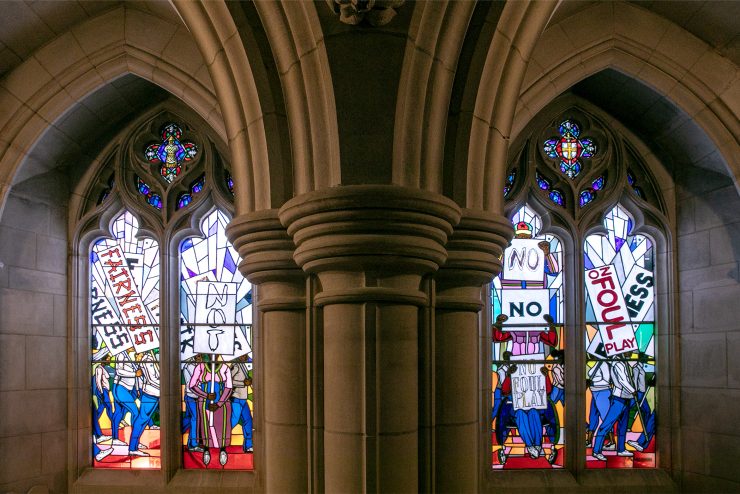 In addition, celebrated poet, author, scholar and president of the Andrew W. Mellon Foundation, Dr. Elizabeth Alexander debuted a new poem titled "American Song" that will be engraved on stone tablets beneath Marshall's window installation.
The reimagined windows—titled "Now and Forever" — signify a new chapter in the Cathedral's historic legacy of art and architecture and mark the completion of a year-long project to replace windows that honored Confederate generals Robert E. Lee and Thomas "Stonewall" Jackson, which were removed in 2017.
During the dedication, acclaimed Harvard professor Henry Louis Gates Jr. and Rep. Sydney Kamlager-Dove (CA-37) also provided readings from Scripture.
Throughout the event, Cathedral staff emphasized the Cathedral's role as a sacred gathering space where all Americans can see themselves reflected in the building's expanding art and iconography.
"Simply put, these windows were offensive, and they were a barrier to the ministry of this cathedral, and they were antithetical to our call to be a House of Prayer for All People. They told a false narrative, extolling two individuals who fought to keep the institution of slavery alive in this country. They were intended to elevate the Confederacy, and they completely ignored the millions of Black Americans who have fought so hard and struggled so long to claim their birthright as equal citizens," said the Very Rev. Randolph Marshall Hollerith, dean of Washington National Cathedral, during the dedication on Saturday. 
"I want to be clear that this is not the end of the end of the Cathedral' s journey; rather, today is an opportunity to recommit ourselves, and to recommit this Cathedral, to join that march toward fairness for all Americans, but especially for African Americans. There is a lot of work yet to be done to confront systemic racism, to foster racial reconciliation and to be repairers of the breach, both in the past, the present and in our future." 
Windows creator Kerry James Marshall also provided remarks, comparing the story of creation in the Bible and the fall of humanity with the creation of America and the nation's ongoing struggle with racism.
"The church in general, across all faiths and this National Cathedral in particular, exists as a symbolic representation of humankind's aspirations toward perfection, and a desire to keep the promise of redemption when we offend and fall short of the impossible," said artist Kerry James Marshall during his remarks at Saturday's dedication. 
"Even the God of the Cathedral didn't have a permanent remedy against the evils that humans seem destined to inflict on one another. Today's event has been organized to highlight one instance where a change of symbolism is meant to repair a breach of America's creation promise of liberty and justice for all, and to reinforce those ideals and aspirations embodied in the Cathedral's structure and its mission to remind us that we can be better, and do better, than we did yesterday, today.
"[Pieces of art] can invite us and anybody who sees them to reflect on the propositions they present, and to imagine one's self as a subject and an author of a never-ending story that has yet to be told. This is what I tried to do, with words, images and colored glass, for right here and right now." 
"I am deeply humbled, incredibly grateful, for the opportunity and hope that the things the windows propose continue to be a catalyst for the kind of transformation that the Cathedral stands for, what this nation stands for … and what I hope we all will embody and stand for and bring forward ourselves."
"'American Song' was composed to invite meditation in the unique sacred space of the National Cathedral, which also has a broad and crucial civic function," said poet Elizabeth Alexander. "I am forever honored to have been invited to offer these words to live alongside Kerry James Marshall's magnificent stained glass windows, making space for feeling and reflection on our multivocal history as we try to move forward into a more just and beautiful future." 
Over the next nine months, Dr. Alexander's poem "American Song" will be hand-carved into the stone tablets beneath Marshall's window installation.
Following the unveiling and dedication event, the Cathedral hosted an afternoon of festivities including an open house with tours, live music on the building's west front, DC food trucks, and kid-friendly activities. Visitors had the opportunity to watch a new documentary about the "Now and Forever" windows and listen to a special docent presentation highlighting African American art within the Cathedral.
This fall, in collaboration with Kent State University's Wick Poetry Center, the Cathedral will host an interactive "maker space" focused on the new windows, where vistors will be able to contribute a community poem. The exhibit will be open in the lower level Visitors Lounge until November.
In addition, the Cathedral has released a new book, "Now and Forever," which documents the history of the Lee-Jackson windows and the process of replacing them. The book was written by Kevin Eckstrom, an award-winning journalist who now serves as the Cathedral's Chief Public Affairs Officer.
Support for the windows replacement project and related public programming to highlight the Foundation's and the Cathedral's ongoing commitment to racial justice and reconciliation is provided by the Ford Foundation and the Mellon Foundation (as part of the Foundation's Monuments Project).
The Hearthland Foundation, founded by Kate Capshaw and Steven Spielberg, is also funding the project, with support for the poetry-inscribed tablets.
A Windows Replacement Committee oversees the future of the former Lee-Jackson windows, co-chaired by Dr. Eric L. Motley, the deputy director of the National Gallery of Art, and Chase Rynd, former director of the National Building Museum. Additional members include Dean Hollerith; Dr. Gwendolyn DuBois Shaw, Class of 1940 Bicentennial Term Associate Professor, Department of the History of Art at the University of Pennsylvania; the Rev. Canon Kelly Brown Douglas, Canon Theologian at Washington National Cathedral; the Rev. Canon Rosemarie Logan Duncan, Canon for Worship at Washington National Cathedral; and the Rev. Canon Leonard L. Hamlin Sr., Canon Missioner and Minister for Equality and Diversity at Washington National Cathedral; Blake Coleman, Class of 2021 graduate, National Cathedral School; Gwendolyn King, President, Podium Prose; and the Rev. Dr. James P. Wind, former president, The Alban Institute.
Media interested in speaking with Washington National Cathedral staff about the "Now and Forever" windows should contact Eleanor Donohue at [email protected]. More details about the windows project and partners is here. A digital press kit from the unveiling and dedication is available here.
MEDIA CONTACT
Eleanor Donohue, 202-704-5840, [email protected]
###
About Washington National Cathedral
Grounded in the reconciling love of Jesus Christ, Washington National Cathedral is a house of prayer for all people, conceived by our founders to serve as a great church for national purposes.