The Rev. Canon Kelly Brown Douglas
Canon Theologian
The Rev. Canon Kelly Brown Douglas is the Canon Theologian at the Cathedral. In 2017, she was named Dean of Episcopal Divinity School at Union Theological Seminary in New York City, and in 2019, she was appointed to the Bill and Judith Moyers Chair in Theology at Union. Kelly is considered a leader in the field of womanist theology, racial reconciliation, social justice and sexuality and the Black church.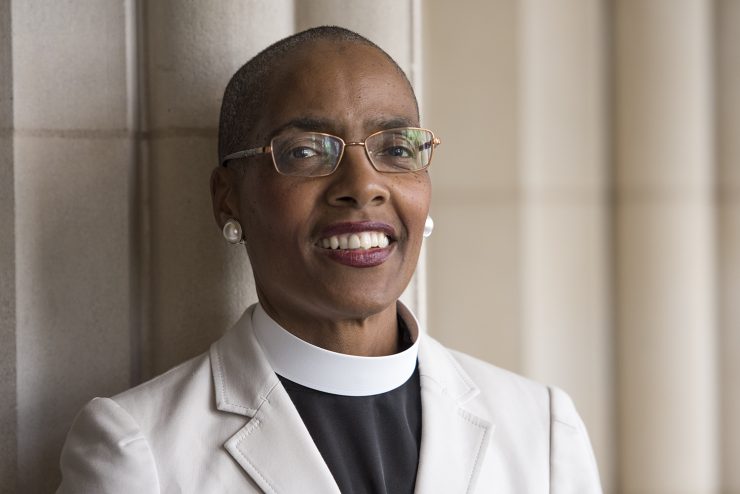 Prior to joining the Cathedral and EDS at Union, she was the Susan D. Morgan Professor of Religion at Goucher College in Baltimore. Previously, she was Associate Professor of Theology at Howard University School of Divinity (1987-2001) and Assistant Professor of Religion at Edward Waters College (1986-1987).
A native of Dayton, Ohio, Dr. Douglas was one of the first 10 Black women to be ordained a priest in the Episcopal Church. She was an Associate Priest at Holy Comforter Episcopal Church in Washington, D.C. for more than 20 years.
She holds a degree from Denison University and a Master of Divinity and Ph.D. from Union Theological Seminary. Her most recent books are "Resurrection Hope: A Future Where Black Lives Matter," released in October 2021, and "Stand Your Ground: Black Bodies and the Justice of God," released in May 2015, both by Orbis Books. She splits her time between New York and Washington.
In December 2022, she was announced as the 2023 winner for the Grawemeyer Award for "Resurrection Hope," one of the most prestigious prizes in religion, given by the University of Louisville and Louisville Presbyterian Theological Seminary.